Short Term Ad Hoc Marketing Reduces Growth & Wastes Resources
You need to put long term thinking back into marketing to ensure your business is built on solid foundations. If not, it could blow up and the roof could come crashing down.
'Strategy' is all about knowing where you're driving your business and having a clear, cohesive sense of direction; this ensures that your resources are focused and not spread too thinly.
Marketing has become too short term, tactical and dumbed down, particularly amongst time-strapped, small and medium sized businesses. Research shows, for example, that many small business leaders are so busy working 'in the business' that they spend less than an hour each month on strategy.
According to Smart Insights, 46% of businesses are doing digital marketing but do not have a defined strategy for their online marketing. A further 32% only have a maximum of annual plans, and only 12% plan more than 2 years ahead.
As managers, we often prefer action to thinking, with time pressures making us tick off the to-do list without knowing whether we are doing the right things that take the business in one direction.
"All men can see these tactics whereby I conquer, but what none can see is the strategy out of which victory is evolved." (Sun Tzu)
Marketing experts say that we can blame some of this damaging lack of strategic thinking on a potent mix of lack of time, reduced marketing budgets and the proliferation of digital communication channels like social media. Facebook, Instagram and Twitter are free but can encourage short term, ad hoc thinking. (They are also time consuming so they're not 'free' at all).
Marketing strategy defined
The CIM defines marketing strategy as:
"A written plan that identifies the organisation's marketing goals and explains how they can be achieved within a stated timeframe."
I agree and encourage my clients to capture their strategy in a short, flexible, working plan, but it is even more important to 'think strategically' in your decisions and actions.
Developing a marketing strategy is about deciding how best to allocate your marketing budget, your people and other finite resources to achieve the marketing objectives.
Examples of strategic marketing decisions (which typically have time horizons of at least 1 to 3 or 5 years) include:
Developing and launching new products.
Entering new markets or exiting old ones.
Investing in new technology to improve productivity.
Digitizing processes to transform your business model.
Repositioning your business or rebranding.
Changing your mix of communication channels.
Changing your pricing model.
Pursuing a new vision.
Tactics, on the other hand, are short-term with short time frames (typically less than a year). Examples of tactics are price discounting, special offers, advertising or PR campaigns, digital campaigns or packaging changes. However, these tactics play important roles in helping you achieve your long-term, strategic objectives.
If you don't have a clear strategy for your business and don't really know what you want to achieve, it's easy to waste money on unplanned marketing activities (and a surprising number of organisations don't really know how much they spend on marketing). This consumes valuable time and money by taking your business and its marketing in different directions.
I've reduced clients' marketing budgets by removing unplanned, ineffective advertising from their plan and reallocating funds into digital marketing strategies focused on new channels like blogging, email marketing, social media, Google Ads and video marketing.
Having a clear sense of direction with a plan also helps you weather the daily fire fighting and business storms which try to push you off course.
The lack of strategic planning amongst small and medium sized businesses often involves too much focus on marketing communications, or promotion, and not enough on the fundamental components and processes of real strategic marketing.
Strategic marketing is a disciplined thinking process
Strategic marketing looks at the big picture and should follow a rigorous thinking process to create a marketing plan which could (or should) include:
research (customer, competitor and market research),
a full marketing review (or 'situational analysis'),
marketing objectives,
segmentation,
profiles (and ideally personas) of target customers,
your brand (its market position and differentiation or USP),
integrating the 7 Ps (products, pricing, place [aka distribution], promotion, processes, physical evidence, people), and
internal marketing.
Working out a clear marketing strategy for a business requires research, analysis of the numbers, thinking and planning. Yes, strategic thinking is hard work and there are no quick fixes!
"I'll repeat something you might consider tattooing on your forehead: What we fear doing most is usually what we most need to do. As I have heard said, a person's success in life can usually be measured by the number of uncomfortable conversations he or she is willing to have. Resolve to do one thing every day that you fear." (Tim Ferriss)
You can develop your own succinct strategic marketing plan, or speak to Christopher Lamotte (07957 870071) for a free initial Website & Marketing Review on Zoom.
Excellent execution is critical: the marketing devil is in the detail
However, the secret behind our most successful companies is the excellent execution of their strategic plans. Some say that "execution is strategy". A good strategy executed inconsistently and badly will fail.
The devil is most definitely in the detail, and good marketing is all about detail and getting the little details right.
Modern marketing is multi-channel and increasingly complex
After the hard work of strategic thinking, todays marketing communications must be multi-channel and integrated, knitting brand building, direct marketing and PR, together with search engine optimisation (SEO), blogging, email, video and social media.
The right channels for any business depend upon who your customers are, how they find and buy from you (aka their 'customer journey', their 'buyer behaviour') and the marketing budget and people resources you have available.
"Developing plans and strategies for marketing today is the most challenging it has ever been. There is an incredible and increasing choice of interactive devices, platforms and channels that potential customers use from smartphones and tablets to social networks and search engines." (Smart Insights)
Although the basics of marketing are still the same, effective marketing is increasingly complex and requires a wide range of skills and experience. See marketing explained in Confused about Marketing?
Marketers are under constant pressure to understand new software tools and techniques and get to grips with the today's trends towards social media advertising, content marketing, local SEO, remarketing and mobile marketing.  In some respects, the rapid development of new approaches to digital marketing has to take some responsibility for the decline in strategic marketing.
Keeping up with the rapid pace of change is an understandable distraction and has the unexpected consequence of giving marketers less time to focus on strategy. It also makes it more difficult to keep their leaders on side, which, in turn, ensures less time is also spent on strategy by them.
About 75% of my time is spent working in digital marketing. However, free or low cost marketing channels like social media can have had the unintended consequence of encouraging short thinking (although used effectively are also very powerful).  Marketing can be dumbed down by the ineffective or naïve use of free, DIY channels.
How many businesses have spent many hours on Facebook, Twitter and content marketing without having a clear idea of where this fits into their overall strategy and what their objectives are?
There's a lack of experience in some marketing teams
Cuts in marketing budgets meant that knowledgeable marketers lost their jobs and some have now been replaced by young marketers. They may be more tech-savvy, however, in some businesses there's an (understandable) shortage of business experience, not enough emphasis on long term thinking and too much (misused) jargon-based, text-book marketing.
When budgets have been under pressure, some SMEs have given marketing roles to someone from another function, perhaps administrative or secretarial, with a perceived sales or marketing 'personality' who can run events, update the website using the CMS and post on social media. They may have a superficial understanding of marketing, but those in their new roles need support and development, or go out and hire properly trained and experienced marketers. Only a quarter of SMEs have employees with formal marketing qualifications. See my blog: 'Too Many SMEs Choosing Amateur Approach To Growing Their Business…'
Evidence of the lack of focus on marketing strategy is sugar-coated, quick fix advice like "12 Steps to", "How to guides", "The six best".  These are usually step-by-step, tactical prescriptions which make us think we're learning but don't identify or fix the big, thorny, strategic issues.
Using matrices as strategy tools
I'm not a huge fan of matrices and models, much loved by many consultants and academics.  These are tools that provide a company or a brand with default strategies or actions based on a visual assessment of their market position and can sometimes play a useful role. However, only as long as these matrices are used alongside rigorous strategic thinking processes and not used as overly simplistic, black and white prescriptions.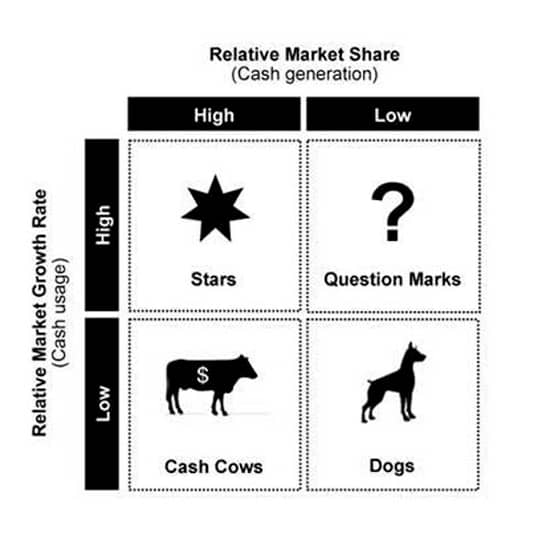 In terms of marketing strategy, the BCG Growth-Share Matrix above is the best known and one of the simplest examples of a matrix.  Work out which box your products or services fit into: which are your Stars, Questions Marks, Cash Cows and Dogs, then use these default strategies to build your plan. Ideally, you should have some stars and cash cows amongst your products.
Then there's Y&R's Brand Asset Valuator for helping determine a brand's strengths, weaknesses and prospects.  It condenses a brand down to two key dimensions – Brand Strength and Brand Stature.  Using these, it assesses the market position of the brand based on some ten criteria, then recommends predetermined actions to improve its position.
However, these tools are crude and over simplify the complexities of business. They do not really answer many of the more complicated questions, such as:
'Why do customers choose our products?'  'Why are some marketing channels much more effective for promoting our services than others?' 'What is stopping our business from growing?'
Develop a marketing plan
Having a marketing strategy and developing a practical, working strategic marketing plan makes you think deeply about your business; it also makes it easier to keep your business on track through uncertainty and major challenges.
As a consultancy Real Marketing considers the detailed complexities of the whole business. Our rigorous process for developing a marketing strategy would capture your strategy and tactics in a brief, working marketing plan which could include:
Carrying out customer, competitor and market research.
Conducting a Real Marketing Audit.
Analysing, profiling and selecting the customers to target.
Creating an appropriate marketing mix to satisfy those customers.
Agreeing an Action Plan with a clear calendar of activities.
Setting a Marketing Budget.
Evaluation and measurement with KPIs.
But the real success comes from excellent, creative execution of a good strategy and plan. As Marketing Plans & Strategy Consultants for Small Business, Real Marketing has been developing then executing marketing plans for more than 20 years.
Please Share This Article